Charlie Cook / Instructor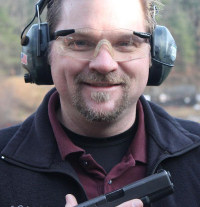 Charlie Cook / Instructor

Charlie has had a busy and varied life. He graduated from the Berklee College of Music with a Bachelor's Degree in Music Education and has been teaching instrumental music upon graduation. He's played with a number of bands in the great Boston area and spent years with a house band at a club in Boston.
He became interested in firearms after he became a father & wanted to be able to protect them. He's been shooting since 2002. He became a NRA Range Safety Officer when he started running bowling pin & balloon shoots at his gun club. A couple years after that, he became certified by the NRA to teach Basic Pistol & Home Firearm Safety and certified instructor by the Massachusetts State Police. He has volunteered with the Gun Owners Action League with many of the Firearm Safety Education Day & Women on Target events.
Charlie is certified to teach in the following disciplines:
NRA Home Firearm Safety
NRA Basic Pistol
NRA Basic Shotgun
NRA Refuse To Be A Victim
NRA Basic Rifle
NRA Personal Protection Inside The Home
Utah Concealed Firearm Permit Course
SABRE Personal Security Academy (OC)
SABRE College Safety Program
Charlie has been an instructor at the Mass Firearms School since 2010. In 2012, he started Personal Shooting Instruction. Not only does he bring knowledge, but he adds entertainment and humor as well.