SAFTEA Concealed Carry Course (CCW) (2 Days)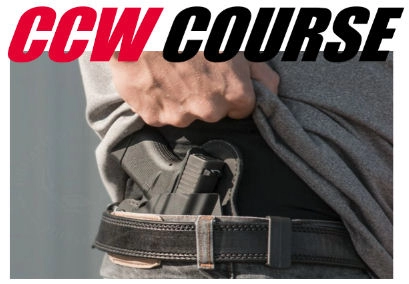 The goal of the Second Amendment Firearms Training & Education Association's Concealed Carry Course is to provide the student with a solid foundation in personal protection and carrying a concealed handgun, knowledge of various types of handguns, ammunition and how it functions, fundamentals of shooting in conventinal and non-conventinal shooting positions, legal aspects of carrying and use of force fundamentals.
The SAFTEA CCW course consist of 11 lessons and is geared to the novice to intermidate students:
Lesson 1 Intro of course, history of SAFTEA, staff, students
Lesson 2 Introduction to Ammunition.
Lesson 3 Handguns, Malfunctions and Stoppages.
Lesson 4 Situational Alertness and Mind Set
Lesson 5 Physiological Reactions and Mental Preparedness
Lesson 6 Range Safety and Operations
Lesson 7 Defensive Shooting.
Lesson 8 Handgun cleaning.
Lesson 9 Introduction to holsters, belts, off body carry and EDC gear selection.
Lesson 10 Common Shooting Stances and Presentation from the Holster.
Lesson 11 Range operations for day 2. (150 to 200 rounds)
NOW INCLUDES 1 hour of New Hampshire & Federal Law and Use of Force.
REQUIRED GEAR:
IWB/OWB Strong side holster (no shoulder rigs, pocket holsters, or cross draw holsters allowed)
Law Enforcement & Security can use duty belt with L2 or L3 Holsters.
250 Rounds of Factory ammunition (No reloads or remanufactured ammo allowed)
.38 special revolver or larger with 3 autoloaders, OR .380 semiatuto pistol or larger with a minimum of 3 magazines
Mag Carrier with 2 mag capacity.
Baseball type cap
Eye & hearing protection. Amplified muffs highly suggested.
Hydration System or bottled water
Knee pads highly suggested
Cover garment
Backup gun is always highly suggested
A positive attitude
March 11 & 12, 2023 8AM - 5PM
June 3 & 4, 2023 8AM - 5PM
October 14 & 15, 2023 8AM - 5PM

Cost: $200