Force on Force - Reality Based Training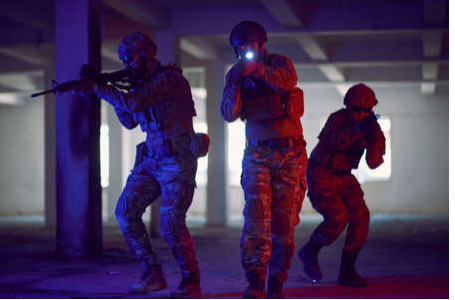 You asked we listened. Coming soon we will be setting up a 30' x 60' Force on Force area with multiple rooms and scenario's for your next level of training including multiple person scenario's, low light, team tactics and much more. This area will use a combination of Airsoft and/or Ultimate Training Munitions (UTM) / Simunitions converted firearms to insure safety on the training field. All players will sign a hold harmless agreement and understand you play at your own risk.
Allowed Firearms:
Airsoft Pistols
Airsoft Rifles (No full auto's)
Airsoft Shotguns
Ultimate Training Munitions converted firearms. (Reduce velocity Marker rounds)
Simunitions Converted firearms. (Reduce velocity Marker rounds)
*Airsoft guns can be spring, gas or Co2 powered with max velocity of 450ft/sec. All guns will be checked prior to play.
** Rental guns will be available however since this is geared towards civilian ccw training, rentals will be mostly handguns.
*** Pellet guns and BB guns are not to be used on the training field. - Strictly enforced!
Gear needed for Training.
Full face and head shield.
Neck Shield
Protective Vest with groin protection
Padded Gloves
NEXT TRAINING SESSION
Coming Soon. We are currently working out details, scenarios for training, rules, gear etc. Keep checking this page in the next few months as we finalize all the details. Be one of the first signed up when we engage!