Advanced Combative Pistol /w Dave Spaulding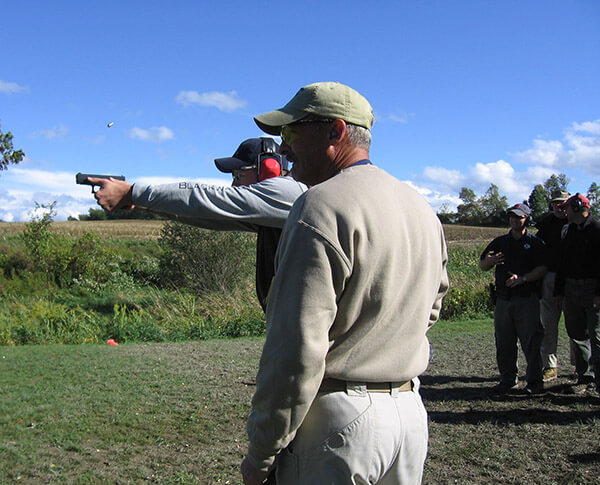 Formerly enhanced, this course is designed to begin where Combative Pistol left off. It is for the shooter who has a solid base of essential skills but now must learn how to use them in the padamonium of armed conflict. This course will focus on movement with purpose in conflict. Movement is more than just short lateral steps, it is moving dynamically, planting quickly , and shooting accurately. This coures will show you how to do this.
Please make sure your skill level is in line with this course description, if you don't know, please ask. This is not a beginners course, this course teaches advanced gun fighting skills with lots of movement.
Join Us!
Course Dates: June 24 & 25, 2017

Course Time: 8:00 AM - 5:00 PM each Day

Location: Londonderry Fish & Game Club
5 Lund St
Litchfield, NH 03052

Rounds: 600 Minimum

Equipment Required: Handgun (spare not a bad idea), with holster, two spare magazine and pouches (three minimum), proper belt to support the weight, clothing for the weather conditions as we train rain or shine, eye and ear protection, billed cap, 600 rounds MINIMUM (more is better), concealing garment is suggested but not required for this particular course.

Instructor: Dave Spaulding

Tuition: $425.00 REGISTER HERE!
---
About Handgun Combatives
During a moment in time when 4th generation warfare is the norm for all citizens, it makes sense to go armed. While any number of weapons are superior in power and accuracy to the handgun, no other gun is as easy to carry and have with you at all times. This is why Handgun Combatives concentrates on the handgun in its training courses…it is the weapon you are likely to have with you at all times. The first rule of gunfighting is to have a gun and the handgun is the one you are most likely to have when danger presents itself.
---
About Dave Spaulding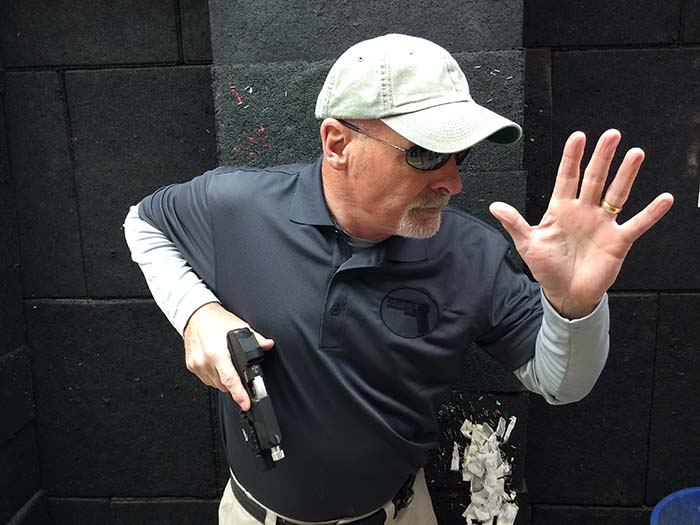 Dave Spaulding was awarded the 2010 Law Officer Trainer of the Year award at the "The International Law Enforcement Education and Training Association (ILEETA). He has 36 years of Law Enforcement & Federal Security experience. Dave was a founding member of his Agency's SWAT Team, and he spent 12 years as its training officer.
Graduate of multiple shooting schools.
Dave is a graduate of most of the major shooting schools including the highly-acclaimed CRUCIBLE, Thunder Ranch, Gunsite, Mid-South Institute of Self-Defense Shooting, Smith & Wesson Academy, SIG-Arms Academy, Chapman Academy, Heckler and Koch International Training Division, Tactical Defense Institute, CQB Services of Liverpool, England, Berretta Training Academy, FBI SWAT School, Lethal Force Institute, Defense Training International, Gryphon Group, Direct Action Resource Center, Blackwater, and more!
Leading Authority on Firearms Training!
By training instructors from across the globe, he is recognized and respected worldwide as a leading authority in realistic combat handgun training. Dave has taught at such prestigious international training conferences such as the American Society of Law Enforcement Trainers (ASLET), The International Association of Law Enforcement Firearms Instructors (IALEFI) and the International Law Enforcement Education, Training Association (ILEETA), The Ohio Tactical Officers (OTOA) and the Michigan Tactical Officers Association(MTOA). Dave was also the host of the 2004 IALEFI International Training Conference which drew students from 17 countries.
Former Law Officer
Dave spent five years as a full time use of force instructor, and another five years as the commander of a multi-jurisdictional drug task force, working major narcotics cases from Seattle to Miami. During his years in SWAT and the drug task force, Dave performed hundreds of high-risk, forced entries into the lair of heavily armed felons. Working all aspects of law enforcement, including: corrections, communications, patrol, homicide detective, burglary investigations, evidence collection, and a long-term, high-risk, deep- undercover operation; Dave honorably retired at the rank of Lieutenant.
Author, Writer, and Consultant
The author of two highly acclaimed books, HANDGUN COMBATIVES, and DEFENSIVE LIVING; and over 1,200 articles for COMBAT HANDGUNS, GUNS AND WEAPONS FOR LAW ENFORCEMENT, PETERSEN'S , SWAT, POLICE, AMERICAN COP, LAW & ORDER, TACTICAL RESPONSE, LAW OFFICER MAGAZINE, GUNS AND AMMO and more. Dave has been an industry consultant to such companies as Ruger, Smith & Wesson, Don Hume Leathergoods, Alessi Holsters, Ghost, Inc., Ameriglo Sights, Law Enforcement Targets, Spyderco Knives, Templar Custom Arms, Fenix Lights and many others.
More about Dave here http://www.handguncombatives.com/
Course Dates: June 24 & 25, 2017

Course Time: 8:00 AM - 5:00 PM each Day

Location: Londonderry Fish & Game Club
5 Lund St
Litchfield, NH 03052